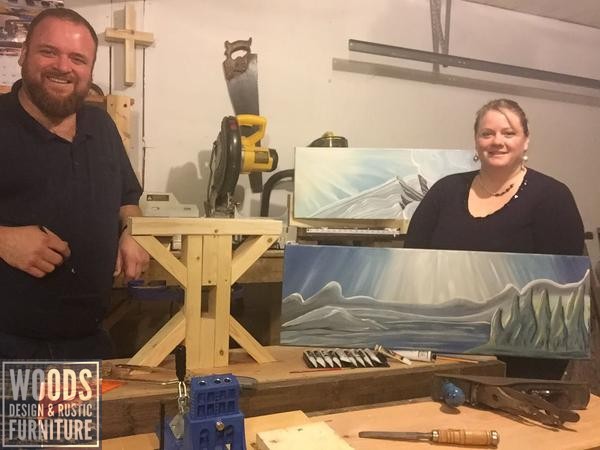 A dream fulfilled is a tree of life
Prov 13:12
My name is Paul Woods and my wife Shawna and I share a life long dream of owning our own business, woodworking and being creative. We hope you enjoy our work and sharing what we are doing here in our home with your family and friends.
We were recently inspired by our cousin who is a carpenter and was building custom furniture for clients in the Fraser Valley. With his help we were able to build our first 8 foot dining room table and bench for our own house. Many of our friends and family have been encouraging us to build similar custom furniture for others and that is what we have done here.
Custom Woodworking Orders
About our products and services
All our products are built using top pick kiln dried BC softwood that has been planed and lightly sanded to remove chips and major imperfections. As with any soft wood, your new table can chip if roughly handled and some minor warping may occur when changing humidity. For example; Bringing the table into your home after leaving it outdoors in the weather. We use pocket screws and food grade wood glue to secure our products. Please allow 2 to 3 weeks for production. Contact us if you have any questions or concerns regarding our build practices.Delivery available for Lower Mainland and Fraser Valley residence only. Contact us for additional shipping options if you are not in this area.
All our products are available in custom sizes and stains of your choice. Please contact us with your special requirements.
BUYER BEWARE: Please keep in mind we are selling real wood pieces that could potentially crack, shrink or bow in certain areas. Not always common but definitely a possibility. We take every precaution when working with wood: buying kiln dried and reading the wood properly before assembling. Remember, wood is an organic product with a mind of it's own. We believe any of these features (cracks, knots, bowing, gaps) just add to the beauty & uniqueness in each piece. We will not offer refunds or exchanges if any of these instances are to occur. We have a home FULL of our own rustic furniture and we embrace every piece. We hope you can too!